Description
Yoga mats are a must have for yoga & fitness workouts helping you get into any comfortable poses. The Yoga mat dimensions are able to cover almost from head to toe cushioning during your workout sessions. This durable fitness mat also has a breathable carrier bag to conveniently carry it to the gym. 
What are the benefits of doing Yoga?
Increased flexibility.
Increased muscle strength and tone.
Improved respiration, energy and vitality.
Maintaining a balanced metabolism.
Cardio and circulatory health.
Improved athletic performance.
What are the dimensions of the Yoga Mat ?
Dimensions: 68 x 24 Inches , Thickness 6mm (Approximate) 
Does the Yoga mat include a carrier bag? 
Yes the Yoga mat includes a breathable carrier bag.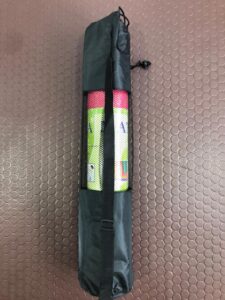 Shipping Details
We usually ship orders inside Colombo & suburbs within 1-2 working days & rest of the country within 5-7 working days.
Delivery Charge within Colombo & suburbs is Rs. 150/- &  rest of the country is Rs. 250/-. (Delivery charge shown in checkout page when you enter details). 
Looking for customer reviews?
Click here to check out customers who have bought products from us!
How can I place an order?
Click on the item you would like to purchase.

Click on add to cart. Note: Multiple items can be added to same cart & delivery fee is charged only once for all items.

Click view cart by selecting the icon on the top right corner (next to the search bar).

Click on proceed to check out.

Fill in the details required to place an order. 

You can choose to create an account by selecting 'create account' on the same page (under the e-mail id). This will help save the details for your next purchase!

The shipping charge & also total will be calculated upon entering the address & selecting area.

Click on place order!

An e-bill will be forwarded to your email address & you will also receive a confirmation to your mobile number.

Your order has been placed & will be delivered soon!!
How can I contact you?
Our team is available via online chat to assist you and also you can click here to see contact details to speak with us directly.